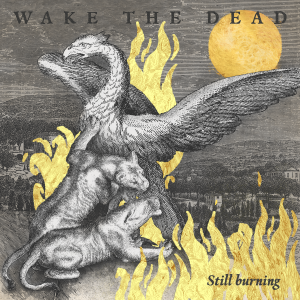 I know Wake The Dead as my absolutely favorite song of my favorite Canadian hardcore band. But I never heard of Wake The Dead from France so far. How is that possible? The quintet from Marseille has been around since 2010. And in these ten years they made sure to spread their music everywhere: With 340 shows in more than 30 countries – almost every European country – Asia and Cuba – they already shared the stage with bands like Sick Of It All, Propagandhi, Anchor, More Than Life, Birds In Row and Being As An Ocean.
And despite several personnel changes Wake The Dead always stayed true to their energetic modern hardcore style. With Still Burning they are now releasing their third album in co-production with APB Records, Burdigala Records, Engineer Records, Eternalis Records, Shield Recordings, Sleepy Dog Records and We Are Sharks Records. Only eight songs, but you can be sure that Wake The Dead pack at least twice as much energy in it.
You easily recognize the role models, Comeback Kid and their brutal but melodic hardcore that gave the band its name. Nevertheless Wake The Dead developed their own style: A bit more European, in other words a little more rough. Anyway, they deliver melodic but brutal hardcore: angry, energetic, sometimes painful or reproachful but always dashing forward.
The first beats are the last carried ones you are going to hear for the rest of the album, which won't stop pushing forward. Still Burning is so angry and intense that you are carried away in a wild ride from song to song. And yet, there's no uniformity. The songs are quite versatile, with numerous rhythm changes, with gang shouts and well-dosed melodic parts.
Track 2, An Eye for an Eye, is particularly varied. Chaos and hellfire are awaiting us in All My Flames. The drums obviously try to overtake themselves while the voice is shaking you to the core.
Lone Wolf allows us a short breather at least for the guitars. Compared to the other songs it sounds almost epic and sweet.
For the rest of the record, Wake the Dead are raging like berserks. Angry and with decent speed, they continue in the style of their namesake, especially in Track 5, Back for More. Hard to imagine how Wake The Dead would play this set in one go.
Track 6, Still Burning, escapes from the rest of the album with a sound recording of the movie The Great Dictator – a bit too much of a cliché for my taste. If you're already having a few years on the hump, you know this speech almost by heart. The lines "More than machinery we need humanity …" have already been used in so many albums of bands with a socio-politically message. And above a bit more skilful. Instead of starting a song or being a fade-out, the recording here is incorporated as a separate track and has little effect on the rest of the album.
But at least we get the opportunity for a short breather before the album is regaining speed. Still Burning is followed by Paradise, a varied, strong song, with shouting, gang shouts, rhythm changes and even a ska-like offbeat. And even with Own Identity, Wake The Dead don't go slack.
Still Burning is literally burning from start to finish and is hardly giving you a chance to catch your breath. Furious guitars that mow everything away, a grumbling bass and pushing beatdowns, in combination with the powerful screams create a modern hardcore swashbuckler. The lyrics certainly don't win a poetry award, but the focus is clearly put on another point. Rhythmic, pushing and with overwhelming energy this is finest mosh pit material.
After Giver's masterpiece this year, Still Burning is another contender for the title "Most powerful European Hardcore album of the year".
Tracklist:
Giving Up
An Eye For An Eye
All My Flames
Lone Wolf
Back For More
Stil Burning
Paradise
Own Identity