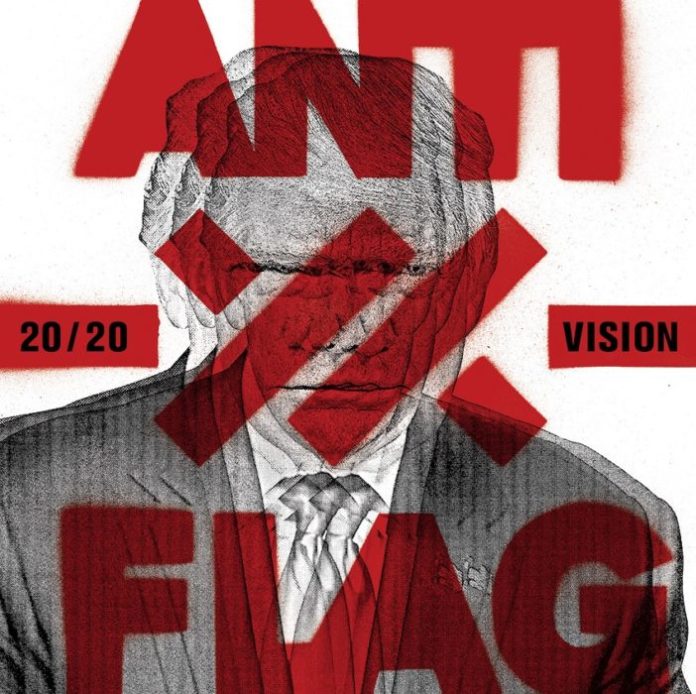 And some more hardcore punk masters celebrating their 25th anniversary with a new album. Even if "celebrating" is the wrong word, because 20/20 Vision, which Anti-Flag will publish on January 17th, 2019 at Spinefarm Records, is a serious political statement. One that surprises, cause even if Anti-Flag can be seen as pioneers of political punk, they have never been so specific about certain political issues.
The album cover shows a portrait of POTUS Trump – with crossed eyes. But instead of just complaining about him or being against political conditions, Anti-Flag are making a statement FOR something – for the freedom of speech in particular and for a better tomorrow in general. The title 20/20 Vision can be understood as a collection of Anti-Flag's wishes and thoughts for 2020.
Despite the serious content: 20/20 Vision sounds anything but top heavy or intellectually demanding. Wrapped into a clear and crisp sound, Anti-Flag captivate me with incredibly dynamic songs from start to finish. It's so much fun listening to these guys from Pittsburgh. What they deliver here sounds fresh as if they had just started up. This energy, these melodies with singalong potential, sound effects and, as already mentioned, this great socio-political content!
Song 1 hits us right away with what 20/20 Vision stands for. With a Trump's quote put at the beginning, Anti-Flag lead him and his way of thinking ad absurdum in Hate Conquer's All. The powerful voice of Justin Sane and the power of the song convey its important message against racism and hatred with incredible force:
Christian Nationalist also clarifies Anti-Flag's opinion: if it may loving or hating people, it's always a political act. Christians who hide their intolerance behind their faith do not show a religious stance, but represent a clear political opinion.
The song Un-American stands out from the rest of the album not only through acoustic sounds. Anti-Flag use typical style elements from country music, such as bluesy riffs and marching drums. What sounds musically nostalgic and deliberately backward due to the Americana sound, gets broken by the punky singing. This dissonance shows the contradiction between American ideals and reality in 2020.
Don't Let The Bastards Get You Down is meant to encourage people to stand up for their opinions. It is that catchy that it almost sounds like an anthem for freedom of speech.
20/20 Vision stays strong across 11 tracks – musically and in terms of content. I like the mix of fuck-off attitude and positive tunes. After 25 years in business and in the increasingly generic punk genre, it deserves respect to put such a convincing album. The old masters still know how to make political melodic punk sound great.
Sound effects and unusual instrumentation (such as the acoustic guitar mentioned in Un-American or the wind instruments in Resistance Frequencies) make the album sound like a melting pot of moods and impressions. Even if Anti-Flag do not reinvent anything here: the energy, the melodies and the message really inspire me and entice me to the following statement:
Can you tell about the first album that you are reviewing that it will be one of the albums of the year? Yes, because you don't need any references, just the knowledge that this is really great punk with a solid message. I'm curious to see what kind of crosses the person on the album cover will get in 2020.
Tracklist:
Hate Conquers All
It Went Off Like A Bomb
20/20 Vision
Christian Nationalist
Don't Let The Bastards Get You Down
Unbreakable
The Disease
A Nation Sleeps
You Make Me Sick
Un-American
Resistance Frequencies