AFL: First of all, let me introduce myself in short way, my name is Julia and I am writing for the lovely DIY Mag AWAY FROM LIFE. Today I got the chance to interview you, and what should I say, I am very happy about it, so let´s start.
Fabulous Fab (bass): Hi Julia, Fabulous Fab, ROTN bass player answering your questions. Thank you for having put this interview together.
AFL: If you talk about your style and your influences, you say that yourself are not hardcore, but you respect the scene und you know about their dogmas. What do you think makes the hardcore scene that much special?
F.F: Hardcore is a scene we know pretty well, as a matter of fact we know its codes don't fully apply to Rise Of The Northstar. We respect that and this is why we never claimed to be a hardcore band. Though, some people seemed to know better than us what we play and started to call us a hardcore band, when some others blamed us for doing things  that are supposedly not hardcore.  One of our main goals is to federate, not to divide and our music can be perceived in four dimensions: Metal, Rap, Hardcore and Manga. All blended together makes our Crossover and a track like 'This Is Crossover' is here to recall that. Anyway, I won't start a full analysis of the hardcore scene but I can tell it led me on the Northstar path and allowed me to join this band. That makes it special to me haha!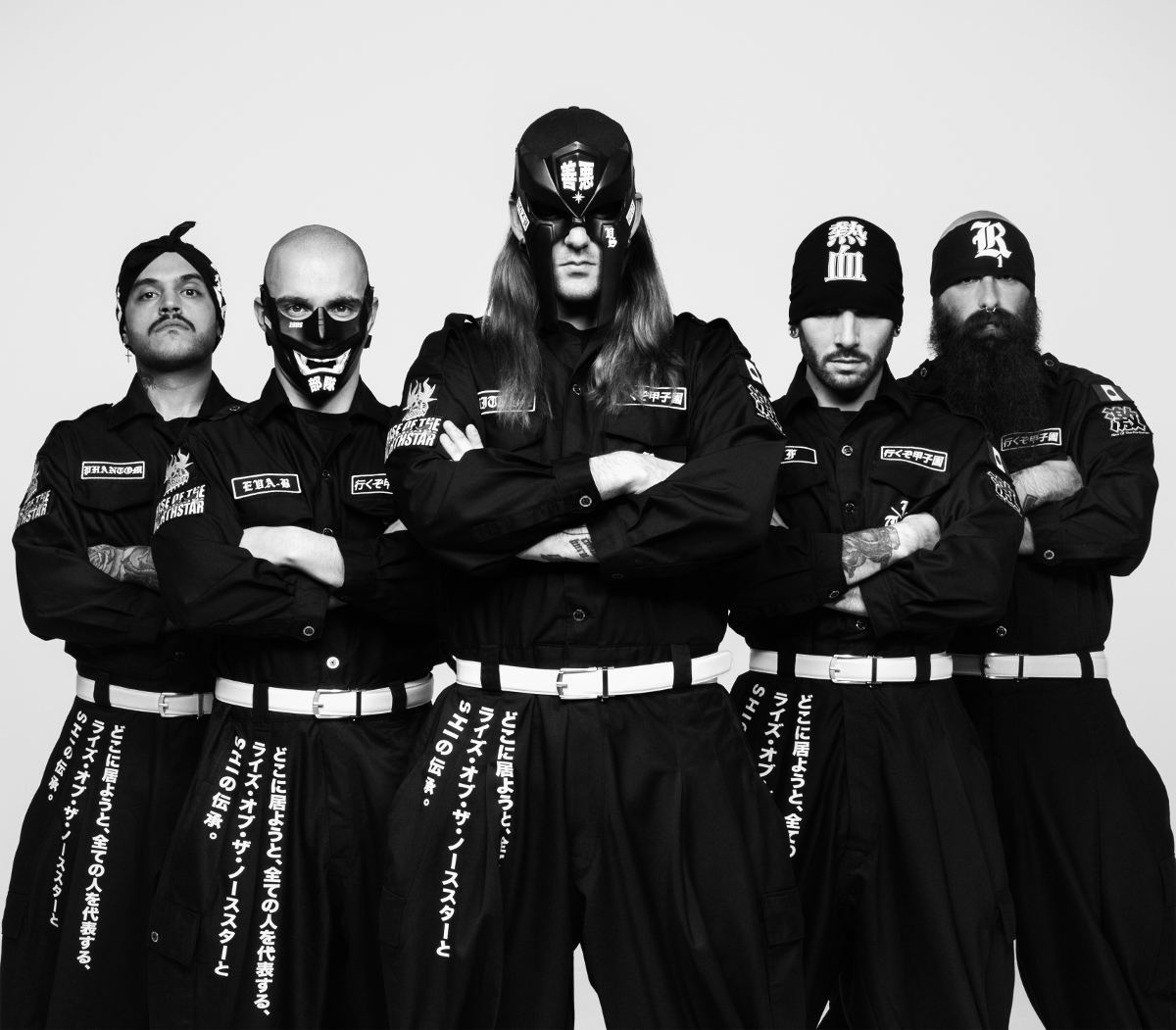 AFL: You play crossover metal with on the one hand typically hardcore 2 steps and on the other hand with aggressive metal and breakdowns, decorated with the flow and the punchlines from hip-hop and rap. So how can I imagine your jam and songwriting-sessions, are you throwing all these genres in one pot, shakin' it and out came your unique sound?
F.F: There's no such as an established writing process, what comes out is what's being felt like. Riffs comes out naturally, are recorded and put together as demos… Actually we had more than fourty tracks for THE LEGACY OF SHI, and as you know there's only 11 left on the record, plus one bonus for the Japanese edition.
AFL: So let's talk about your Album "Legacy of Shi", luckily I had the honor of writing a review about it, and I still love it. The albums opener The Awakening, is sounding very mysterious, before, I named it "Tekkens Heihachi Mishimas Electric Wind Godfist Move" is banging, so can you tell me what the voice at the beginning is talking about, my Japanese is rather bad.
F.F: Nice reference even tough I'm more into Yoshimitsu hehe 'The Awaking' introduces Shi and its storyline that will be told all along the album. Shi is a fictional character created by our singer Vithia. He is a Yokaï (a Japanese demon) who could not access heavens and as a result who choses a host to possess every 100 years. His legacy is the constant duality you'll find through the album lyrics and its artwork,  but also the fight lead between him and the band throughout theme tracks as he now lays within Vithia. Point is to determine who possesses who… By the way, you can find the English translation on the album booklet.
AFL: I also love the Song Step by Step, a song which has the stuff to became a hymn. So what's the story behind it?
F.F: We felt like writing some kind of ballad and Step by Step came out. Lyric wise it's something very personal in which Vithia tells things about himself, so I'll let you read it.
AFL: How do you have changed as Individual beings through music since your Debut "Tokyo Assault"?
F.F: Playing in ROTN teaches you discipline, tenacity, commitment and to surpass yourself. This is why this band is not a hobby for us.  Over the past years, we've met agents, managers, publicists, people from the musical industry and that made us very pragmatic as well.  Since the band is our daily life, all those aspect influenced us and I guess we grew up as individual beings through the band. At least, that's the case about me.
AFL: In 2018, lots of legendary Bands released new albums and you also have ranked there. What are your favorite Releases in 2018?
F.F: THE LEGACY OF SHI obviously! Call me pretentious, I don't care. I'm very happy with how this album turned out in regards of the work and efforts that have been put in it. After all, I'm here to promote this album, not to apologize for having released it haha
Beside our second full length, Ghost's PREQUELLE have been played countless time,  I really love how Tobias Forge leads his troups and business while dropping powerful hit songs. Five Finger Death Punch's AND JUSTICE FOR NONE and Terror's TOTAL RETALIATION raged my hi-fi a lot too so far.
AFL: You are known for your rousing and aggressive Shows, what do you think about violence in the pit?
F.F: Shows are based upon a fair trade: we move, audience move and that makes rousing and aggressive shows as you said. The pit is an outlet place for people coming to our shows and I think it's very positive, but deliberate violence has no place there. I don't want to see anyone getting  punched in the face or anything like that, but incidents can happen of course. Following my previous answer, we federate a lot and we see some young people attending our shows, some parents coming with their children, and it's our responsibility to keep the show a safe place.
AFL: In regards to the moshpit, do you mean there are some differences between hardcore shows and your shows?
F.F: Yes totally! Compact crowd jumping and pogos have taken over crowdkilling.  You can't find an empty pit with those two guys doing high kicks and windmills terrorizing people standing in the back. We often see people wearing gakurans, those Japanese student jacket we used to wear on stage , or white masks. It's very pleasant to see dedicated supporters like this at our shows.
AFL: Soon you will start touring, are there more shows planned in 2019, maybe here in Germany?
F.F: We'll play as much as possible to promote THE LEGACY OF SHI and Germany will be no exception to the rule. Just stay tuned to our socials for tours and festivals announcement.
AFL: Would you like to share some memorable/hilarious moments from touring sessions in the past?
F.F: What's mainly stuck to my memory are the shows, the public reactions and the energy coming out of them and  provided to me when I'm on stage. We love playing in Europe and in Asia but Japan remains a territory where the band carries all its essence. And this is where we like staying longer after tours to enjoy the place. My first Asian tours are great memories, starting with China in 2013 where metal scene is still at its early steps and where people start dancing around hand in hand when you ask for a circle pit. They were not even kidding,  Rise is part of those band clearing a an untapped land, so we played in front of people who were not aware of the metal commodities.
Japan is another story, people are really respectful and very thankful: they thank us for coming, offered us gifts, and sometimes brought apologize letters from friends who could not attend the shw. In Europe we could share stage with well established bands and having Robb Flynn from Machine Head watching our set when we opened their show in Paris and having him checking our singer at the change over is really gratifying. Billy Graziadei from Biohazard supports us too. Many musicians we grew up with know us, it's a real honor for us.
AFL: In the meantime, social networking is getting more and more important, for artists and private persons as well. What do you think about it, is it really necessary in order to belong to a peer group?
F.F: We use social networks as tools to promote the band and our music only, not personal stuffs. You won't see posts about showing us in the van, hotel rooms, backstage or anything like that. It's not worth the share and it's not really interesting unless you're a superstar, and we are here to promote our music, not our daily diet or outfit of the day. It also provide more value to the contents we share.
AFL: I would like to say thank you, for me it was a pleasure to create all these questions I hope it was just as much fun for you as it was for me. Looking forward seeing you on tour and hopefully we will have the opportunity get in touch for a further interview face to face. Have you any last words or something to add?
F.F: Thank you for your interest into the band and for your questions. To anyone supporting us, thanks for believing in the Northstar. To anyone hating us, thanks for mentioning our name. May each one of you stay authentic the way we did!