The Punk band Barb Wire Dolls from Greeche have released in July 2016 their new album Desperate via Motörhead Music. We could talk to Barb Wire Dolls singer Isis Queen in an interview about Lemmy Kilmister, the problems of a punk band in Greece, their move to Los Angeles and the new record.
Interview with the Greece punk band Barb Wire Dolls
"Freedom comes from the mind not from the fist."
AFL: You will release on 22th July your new album "Desperate". How satisfied you're with the album and what can the listeners expect?
Isis Queen: We are very excited to have our new album 'Desperate' released on Motorhead Music this summer. With our debut album 'SLIT' that was recorded by Steve Albini, we toured on that album for 4 years because it was so successful in the underground. 'SLIT' was a great album for us. We put it out through multiple distributors around the world and licensed it to a many independent labels. It gave us momentum all these years to tour off of it because it was so loud and demanded attention!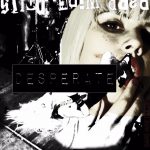 We toured the U.S. five times around and played 22 different countries. We have done everything you can do as a DIY band on that level but financially it put us in a hole. We do not come from rich parents or have a financial backer so we were putting everything we made from shows and merch back into the band to keep touring and in the process sleep on floors and be nomads for all these years. But we survived and are able to put out this new album because of our generous fans and important music icons in this business that want to be apart of the new album.
AFL: Is there a difference between "Desperate" and your older releases?
Isis Queen: 'SLIT' came out kicking and screaming where as 'Desperate' you'll find the answers to our angst.
AFL: You'll released your new record on Motörhead Music. You know Lemmy personally? If yes which relationship you had to him?
Isis Queen: It means everything to us! Lemmy gave us new hope! We first met Lemmy on the famed Sunset Strip in Los Angeles the first night we were there. We chatted about Greek punk and our love for the first wave of Punk back in the 70's. Throughout the years he would get demos from us and eventually he came to our residency shows at the legendary Whisky A Go Go every Monday. Lemmy had started Motörhead Music to put out Motörheadalbums but to also continue his legacy with new bands. He asked us to be on his label and to have Barb Wire Dolls be his first new band release. We of course were thrilled! I mean, Motörhead!!! They are everything that we stand for! They dont follow any ones rules about how to be and sound. Lemmy is a true innovator! Lemmy is GOD!
AFL: Which themes your threat in "Desperate" and where do you get your inspiration for your lyrics?
Isis Queen: It's all about INNER anarchy. Freedom comes from the mind not from the fist. You can fight with your fists all you want but there will always be an enemy. We are all desperate for something. Music is the release to the fears and doubts that we have. We find guidance in the lyrics and answers in the beat. 'Desperate' was our answer to our frustrations. It is not easy being a DIY band. You sleep on floors, go days without showering, eat whatever is available and live like a total nomad with other band mates that you struggle to find harmony with sometimes. We went 2 and a half years of full underground touring without stopping! Lived out of our van and other people's houses and floors for over 500 shows in those 2 and a half years. But then music is created and it is all worth while.
We were too loud and we were PUNK and there was no market for punk music.
AFL: In a few days you will play the Wacken Open Air. Maybe the biggest Metal/Rock festival in the world! How came it that you play there? You're looking forward? Are you stay as visitors there? If yes on which band you're looking forward most to see there?
Isis Queen: A few years ago when KREATOR headlined Wacken his wore our Barb Wire Dolls T-Shirt on stage and it totally blew our minds! You can only get our shirts at shows because we don't have a online store so when we started getting bombarded by emails from people telling us that Mille Petrozza was representing our shirt at such an important festival it made us want to play Wacken even more! It will be a huge honor for us to play such massive festival that many make a pilgrimage to go to every year.
AFL: You will be coming back to Germany in fall. You're looking forward? Is there any date you're looking forward most?
Isis Queen: It's always a good time playing Germany. Germany has a great DIY community and there are so many people that live the punk rock life despite what the system says.
AFL: I read that for a few years that you leaved you home Greece and lived in the USA. Is it right? Why you moved? Where you live now?
Isis Queen: We started the band in an artist commune in the mountains of Crete called 'The Ikarus'. We were bored with the contemporary music scene and its lack of distortion. When we started there was no punk bands on the island. There was no scene. There was no place to play. We knew all the owners of the rock bars in the big city of Heraklion but no one would let us play because we were too loud and we were PUNK and there was no market for punk music. We had to take the 9 hr boat ride to Athens to play shows and even then we could not get gigs because were were from Crete and could not guarantee a crowd.In Athens we met our drummer Krash Doll and the band really took off from there. We would put on free shows that we called 'Punk Rock Matinees' every Sunday and eventually a scene started from there. Our name and demo reached a legendary rock DJ by the name of Rodney Bingenheimer who started playing our demo nonstop on his show in Los Angeles on the biggest rock radio station in the world, KROQ. Since that was the biggest opportunity a Greek band had ever gotten, we sold everything we had and bought the tickets to LA where we ended up becoming the first rock band from Greece to play the U.S.A. Now we are back at The Ikarus Artist Commune and we will be basing the band from here.
AFL: You're now five members in the band. I saw you for a couple of years on the BACK TO FUTURE festival, where you played as a trio. You've now two guitars? Why the change?
Isis Queen: For years we were a three piece without a bass player with Pyn Doll (Guitarist) plugging into both the bass rig and two full stacks of guitar Marshall stacks. We had a massive sound. Everything turned to 11 and it was a very cool sound. We recorded 'SLIT' like that but when we went and played in Europe it was impossible to tour with so much equipment so we added a bass player. 'Desperate' was written with a bass player so more melodic sounds came out of us.
AFL: What are your musical influences? If would say yourmusic is a mixture of old British punk-rock and classic Rock. Do you have bands which you are influenced by the most?
Isis Queen: Unfortunately I do not care for the music of my generation and so I confide in old records and tapes to hear the music that inspires me. The first wave of Punk from the 70' is so important for me. Those bands were all so different from each other and they stated that you can create your own style and not apologize for it. Eventually you can find other people that are like minded and change the way things are. That is why we got a long so well with Lemmy and he understood us and our agenda.
AFL: If you can choose with which band and where do you want to go on tour? Why these band and why there?
Isis Queen: That is not a thought that i really think about. But it is always great to open up for a cool band. We did some dates with Jello Biafra and GSM and that was some of the best shows i can remember. It would be great to tour with them again!
AFL: Thank you for taking time! Have you any last words?
Isis Queen: There is a place for you and your ideas. Don't become a number in this society that we live in. Stand out and be strong in your expressions. Inspire people and help them inspire others. There is no better time in history than to be alive now with all the knowledge at our finger tips. There are no excuses to go out and live your life. We are all music and have it inside of us. You got the fight burning inside of you. You have the power and that's the truth. Come join us and be a part of the Street Generation. See you in the pit.