Tarkany! is in their home Russia the biggest punk rock band. We could talk to their frontman Dima in an interview about the band's past and future.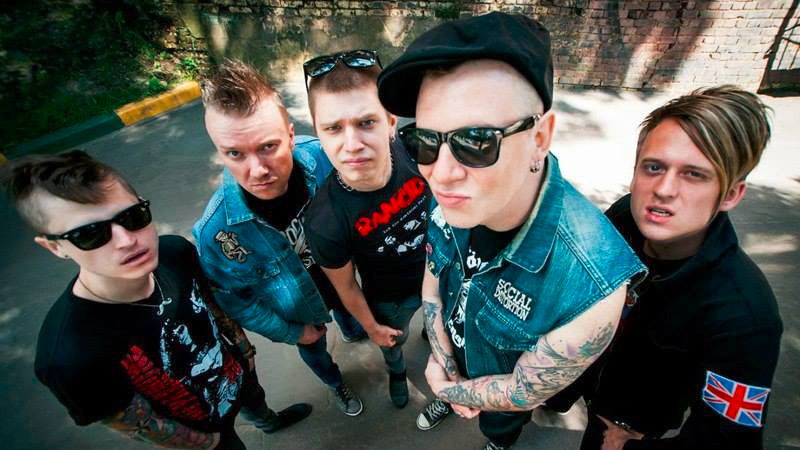 Tarakany! counts to the most popular Russian rock bands. Here's an interview with the front man Dima about the future plans of the band. Since their foundation in 1991 they get bigger and bigger with every new release but they although never forget their DIY roots. They threated critical themes and making punk-rock music since over 25 years now. Learn more about their latest release, a new album and other future plans of the band.
AFL: Hey Guys! How are you? Firstly thank you for taking time for an interview. Please introduce short yourself. Since when do you make music together? How many members you are and so on?
Dima: We're fine, thanks! Thank you for your interest on us and your questions. Tarakany! started in 1991, so next year is our 25 anniversary. Our current lineup is not the original. During these 25 years about 20 different musicians passed through the band. Now we are 5 members in the band. For the first 20 years we were just a quartet. We are released about 20 full lengths, live albums, best-of, splits, demo compilations in Russia and the world, toured in Europe few times and once in Japan. Now we are something like one of the biggest rock bands with punk roots in Russia.
AFL: For some days you release your new single «ЧТОЯМОГУИЗМЕНИТЬ?». What means it in English? Why you choose this title for the album?
Dima: This is only a 2 songs release, so main song title turn into release title. This sentence means «What can I change». Both songs have deep anti-war attitude.
AFL: You release so long ago a video to the title song of your new record. Very cool production! How came the idea of the video? And what is the story behind the video?
Dima: Thank you, glad you like it. This story is just our vision of the old hippie slogan "Make love not war". The scenario is written by video director, Vladimir Bolgov. He offer us this story even don't know (for that moment) if we have good song for this idea or not. Thanks god, we have this song, so now we have this video.
"I can't really tell what can expect our fans, because I don't really know what result will be."
AFL: How satisfied you are with the new single and how differs the album from your last releases? What can the listeners expect on it?
Dima: We are happy with the result, but we always try not to do absolutely the same every time. Every our releases are a little bit different than the other and the albums also included songs with different sounds. So that's why I can't really tell what can expect our fans, because I don't really know what result will be.
AFL: In the past you work often wit Rod Gonzales of Die Ärzte. How came the contact to Rod? Will you work with him further in future?
Dima: Rod was once in Russia with Die Ärzte…it was in 2008. They are not so huge here as in Germany, so it was not a big problem for me just to meet him and hang with him in Moscow for couple of days. Then we start to email each other sometimes. And when in the end of summer 2012 I realize we have "disco" song I decide to email him and ask if he want to do work with us on this song. He agreed immediately. So he prefers to make all the electronic dance sounds, electric bass arrangement and German lyrics version. The last thing was not so easy, because original idea of this song is based on sayings that are only clear for Russian. We don't really planning something with him in future, but who knows?
AFL: Where did you record your new album? I heard that record your last release in Düsseldorf! How came it?
Dima: You're absolutely right! We're planning to record new album in Dusseldorf again. It was just incredible, the result was fantastic, we get 3 number 1 hits with this album, so how we can wish something better? The guys from "Rock or Die" studios are real professionals, they know how to produce bands like our, so we want to go there again.
AFL: Which bands and music do you count to your influences and how would you describe you music in three words?
Dima: Ramones, Social Distortion, Bad Religion, NOFX, Rancid, Sex Pistols, Clash, Iggy Pop, Motorhead, Die Ärzte. We also listen to a lot of 50's, 60's, 70's, power pop, ska-reggae-dub, surf, disco, new wave, all kinds of metal, hard rock.
Our music is punk/rock/pop with lyrics that significant.
New Tarakany! Album 2016
AFL: You were with Tarakany on tour in Germany several times. What do you like at Germany and what not?
Dima: Everything in Germany is great for us! I can't really remember something that disturb us. Sometimes something is more expensive that in Russia, but if you come to Germany after Denmark everything is ok, haha!
AFL: How distinguish the punk-rock scene in Germany from the scene in Russia in your opinion?
Dima: If you asked me 15 years ago I would say you have everything, we have nothing. In 2000 there was not clubs, zines, promoters, labels and so on. The DIY scene was very small and big bands were not big enough. Now it's almost the same. Every town has its own bands of every type – crust, hardcore, 77, Oi!, Ska. Every level gigs in every day. You can book your band for the tour for half a year. I don't really know what German punk scene is now, because times are different today, but for my opinion it's almost the same.
AFL: Do you play in any other bands beside Tarakany?
Dima: Almost every band member then and now play in some other bands before Tarakany!, or even in the same time. So, it's not so big deal for us. Now, three of us play in the punk/rock classic cover band, our bass player play in the street punk band named Agitators.
AFL: Have you steady jobs or is Tarakany a full-time-job?
Dima: Yes, we are rock musicians only and Tarakany! and other bands we play is the only ways of earning.
AFL: What are your favorite bands and records at the moment?
Dima: The last Billy Idol release.
AFL: What are your plans for the near future and where do you see yourself in 10 years?
Dima: 25th anniversary tour for whole year 2016, a new full length record, new videos and even a documentary. I hope we all will ok to do the same in 10 years till now.
AFL: Final words and greetings?
Dima: Thank you again and see you in Germany!