Vinnie Stigma become 60 years in December. But there are still no fatigue! Agnostic Front playing one tour after another! They also release there new record The American Dream Died this year. I could talk with Vinnie Stigma about the future plans of him and Agnostic Front, the new record and the NYHC scene of today. Here's the interview.
Support your local hardcore scene! Support your local hardcore band! Support your local club! Because without them were nowhere.
AFL: Hey Vinnie! How are you? How was the tour so far? Where there any highlights or any special things so far?
Vinnie: Hey Simon! There are always a couple of highlights, here and there. Yeah Roger was singing the other day and got kicked in the face, you know like kids were doing a stage dive…and BOOOM knocked Roger over like gave him a fat lip and he had a bloody mouth while he was singing…haha that was cool!
8 immigrants ran into our buss trying to get from France toEngland. They charged our buss we found 8 of them in our trailer…that was a highlight. We played a festival the other night and it went on really really late, bunch of little kid were throwing up, you know that was crazy. Yeah the weather on tour is good. You know, were halfway through the tour almost. We have a day off coming soon after that we go to Spain and Italy type things. Here I am once again in Schweinfurt in my friend Rawside's town.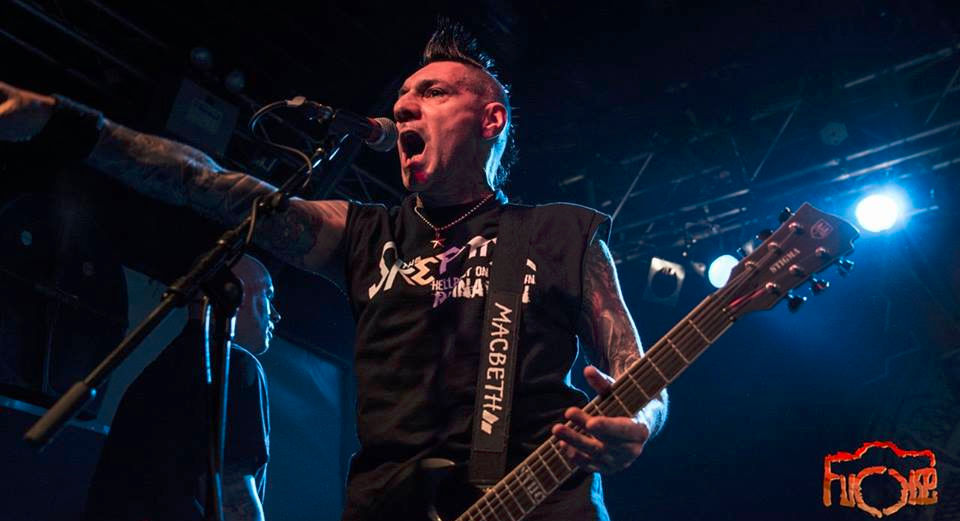 AFL: Like last year you're on tour with The Old Firm Casuals. Is there a special friendship between AGNOSTIC FRONT and TOFC?
Vinnie: Yeah you know Lars is a good friend of mine! Well they are all good friends but specially Lars. He helped me out a lot in life also a mentor in a way. With my tattoo shop he became my partner and with the Stigma band he helped me write songs and um just a friend and a great song writer and guitar player.
The new album says a lot, every song says something.
AFL: You release your new record The American Dream Died this year. How differs the new album from the last AGNOSTIC FRONT releases in your opinon?
Vinnie: Well I don't know it's kinda like a throwback in a way, you know, so that's good. It's very social, spit in the face, so that's good too. It's powerful! The new album says a lot, every song says something. Whether it's about police violence or the way our government works. You know without being too political…you know what I mean! Not like some bands we know around here, haha (AFL: means the politic-punk band Rawside).
AFL: One of my favorite songs of The American Dream Died is Old New York. How do you see the current hardcore and punk scene in NYC and what are you missing?
Vinnie: CBGB's man was like the root of all evil! That's why in a way I have NYHC Tattoo's. That there's something there a staple a place where kids could come congregate and find out where the bands are playing. We post up a lot of stuff and we try to be there for the kids. You want to get tattooed to your own music and you know the way you want with your friends. It's a place to go!
AFL: Is there still a big hardcore scene like in the past?
Vinnie: What you need is clubs! You need clubs so bands can play and people can go there. Otherwise you'll be a bunch of nomads just wandering about with nowhere to congregate. That's why CBGB's was such a staple you know a REAL Thing. That to this day I'm sad that's its gone, and I'm proud I was a part of it. You know have a live album out of CB's. Hilly was a great friend.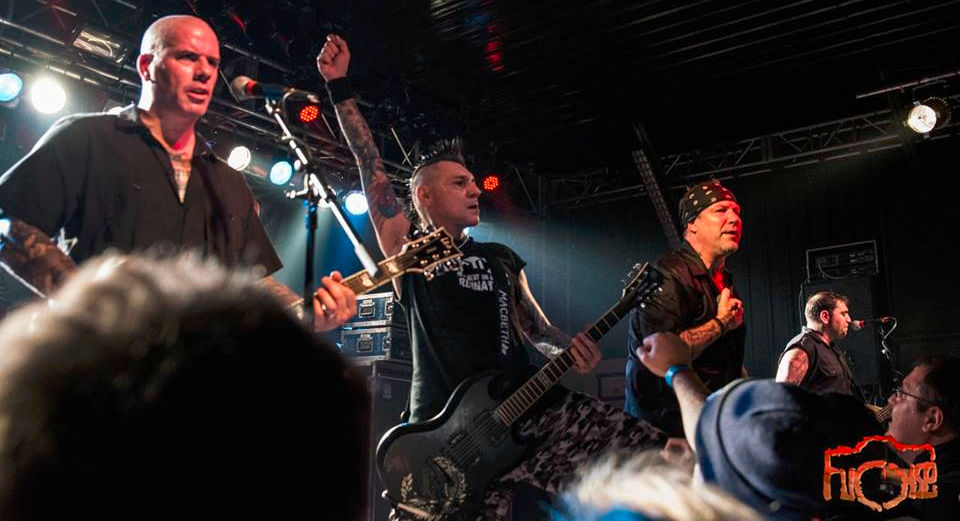 AFL: Have you any special plans with AGNOSTIC FRONT after this tour. I've read you make a Texas Tour in November?
Vinnie: After this Halloween on Nov 1 is daylight savings time in America. Yes, we'll be in Texas in November and then California in December. Florida and Mexico in the New Year. We are home for the holidays bet were going into February now.
AFL: Is there a difference between European and the US hardcore in your opinion? Or is it everywhere the same?
Vinnie: Well it's all the same, but I like the euro scene because it's more kinda hardcore and punk pure and also more politically aware. I'm not saying you have to take one side or another, but at least be aware. At least know what the fuck you are talking about or stand behind what you are talking about. You know you don't have to be in a corner but as the world goes around so many times! You know I'm starting to get a little dizzy haha!
AFL: Do you thing AGNOSTIC FRONT still making music in 10 years?
Vinnie: Well I'm going to be 60 in DEC. and I know were booked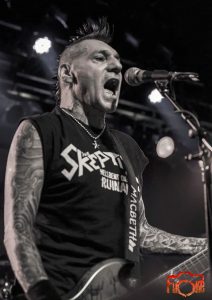 till next summer, like WFF and so. I got A LOT MORE MUSIC. I got a new guy in the band and a whole rebirth of Agnostic Front once again. We are still in it, we still believe in it and now after 20-30 years I still write music. I still stand for what I believe in. you know when my friend calls me YO Vinny there's trouble down there, I got to go and stand next to my friend. I'm honored to be in your country and play for you people and I'm grateful that you guys come to see my band, try to stay pure. And does the right thing be friends like you know we are.
AFL: What are your personal plans if AGNOSTIC FRONT breaks up one day?
Vinnie: If that day comes I want to go out toe up. But when that day come I always had like a little thing…like being a music teacher! You know I want to teach old people because I'm kind of old, have patience and I know the kind of music they like. I can play it and I can have coffee and cake and that's fine. And I want to teach children. But for a very selfish reason! So when they grow up and asked: Hey where did you learn to play guitar? they can say: Hey Vinny Stigma thought me to play!!! Haha! And yes it's been done!! I've lived long enough to where I can see that and I'm like WOW! That's so great. So it will come back, be a good person be a good role model, do the right thing be a good parent. Just be a good guy, you know! I'm still going to go to fucking HELL you know, haha!
AFL: Vinnie my friends, thank you for taking time! Have you any last words?
Vinnie: Support your local hardcore scene! Support your local hardcore band! Support your local club! Because without them were nowhere. Make a friend not an enemy, it's a lot easier! And remember when you're away from home right here www.awayfromlife.com.