There is a lot going on with the dutch hardcore band All For Nothing. In addition to changes in the line-up All For Nothing played some festivals in the summer and just finised their club tour. Now the band around the charismatic front woman Sindy are working on new material for a new album. We will discuss in an interview with the band about the band and the current political situation in the Neatherlands and Germany.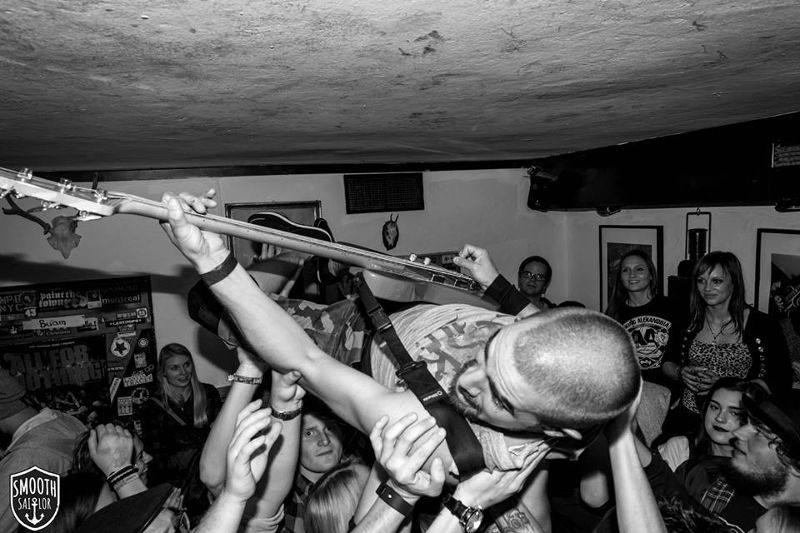 All Photos by Sebastiaan de Vries of Smooth Sailor Productions
AFL: You had a Line-Up change this summer. Could you tell us why and introduce your new member?
We have two new members. Our new drummer is named Roel. He used to play in different bands, a few of them also had some top 10 hit songs in the Netherlands. He is very professional and knows a lot about drums. Besides that he is a great guy and it worked out from day one. And our "new" guitarplayer is Tim. Tim already did a fill in tour with us when we hit the road with Walls of Jericho. Solid dude. Besides that he is a sound engineer for bands like John Coffey, and really knows alot concering sound and gear. Both of the other guys decided they wanted to focus on other priorities in life. We are still in touch and from time to time haning out. We are very exited about our new line up and what the future brings.
AFL: You played a lot of festivals this summer and in the end of October you was on tour again. What do you like most about touring?
Being away from the daily routine. Having an escape and some adventure. It keeps you young.
AFL: Without the Prague concert, every show of the tour will took place in Germany. Are you into the current public discussion about refugees? There is a lot of agitation and prejudices. What do you think about that?
Of course we are into the current public discussion about the refugees. We believe countries like our own should help out the people who are truly in need, every act of kindness makes a difference! The media piss me off a lot, because they only share certain "information" the manipulate the opinion of the mass. There are a lot of videos out there that portray the refugees as a group of just economic migrants and killers. Of course the are always rotten apples but you cannot let the actions of a few speak for a whole group. People tend to believe everything they see and hear on TV and Facebook, but the should double check the sources!
AFL: How is the situation in the Netherlands?
The situation in the Netherlands is kinda the same as Germany. The gap between left and right is getting bigger. The people who live in the lowest classes are getting more angry en feel threatened by the refugees. Far right groups are disrupting meetings organised to discuss locations of refugee centres. We're seeing increased violence because a lot of Dutch people feel left out of the decision making. The decision has already been made in their opinion. And people like Geert Wilders and some of the media take advantage of that fear. On the other hand there are many people like us who believe in humanity and compassion.
AFL: Apart from that, are there any things you like particular in Germany?
We love the German mentality concerning hardcore. People seem to be really dedicated. They also travel crazy amounts of miles to get to a hardcore show.
AFL: What is the first thing you do after leaving the tour bus/van at the end of a tour?
A long hot shower!
AFL: In my eyes All For Nothing is a very energetic live band. Do you train yourselves to keep the power on stage? Did you ever had any injuries on stage?
We tend to work out all in our own way. Ernst en I do a high intensity training at Koud Staal personal training. It really helps keeping up track. We also all had some injuries, varying from falling of stage to broken teeth.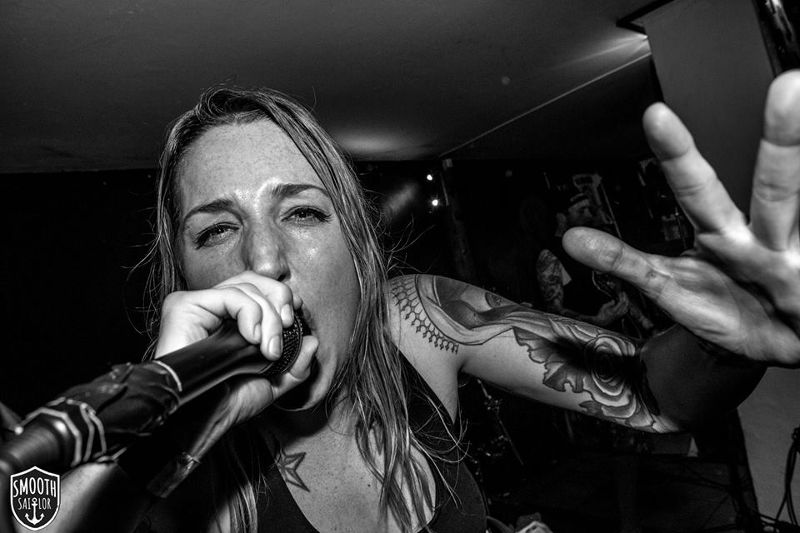 AFL: I saw a shirt of your band with the slogan "it´t not just boys fun". What do you think currently about the hardcore scene? Why is it that dominated by men? Is there a change in sight?
Slowly but surely there are more girls getting involved in hardcore. Compared to 10+ years when I started singing in All For Nothing, it has been a big improvement but we still have a long way to go.
AFL: Let´s talk about DIY. What are your experiences? Do you still support DIY?
DIY is always a cool thing if it is done with passion!
AFL: You released "What lies within us" in 2014. Do you already have any plans for a new record?
Currently writing new songs with our new line up. We are planning on releasing a full length as soon as we can.
AFL: Last words? Anything you ever wanted to say in an interview but never dared before?
Thank you see you on the road!