We were able to talk to the "new" punk-rock band Bitter Grounds from the Netherlands.They will release their debut full-length album in early summer 2016. Before they started Bitter Grounds last year, the band was better known under the name Beans. Beans were active from the mid of the 1990s till 2006. You will learn in an interview with Bitter Grounds why they reformed nearly ten years later under a new band name.
AFL: Hey there! How are you? Firstly thank you for taking time for an interview. Can you short introduce yourself for anybody who don't know you so far? 
BG: We're Bitter Grounds from Utrecht, the Netherlands. We formed sometime in spring 2015 and are going to record an album next month. We're just four guys who share a love for punk music, with some dirty ska/reggae thrown in.
The main reason we didn't want to continue as Beans is the fact we didn't want to do this lame reunion thing.
AFL: You played before in a band called BEANS which released four albums. Two of it on the popular label I Scream Records. Why don't you continue with BEANS and what prevail you do play together again?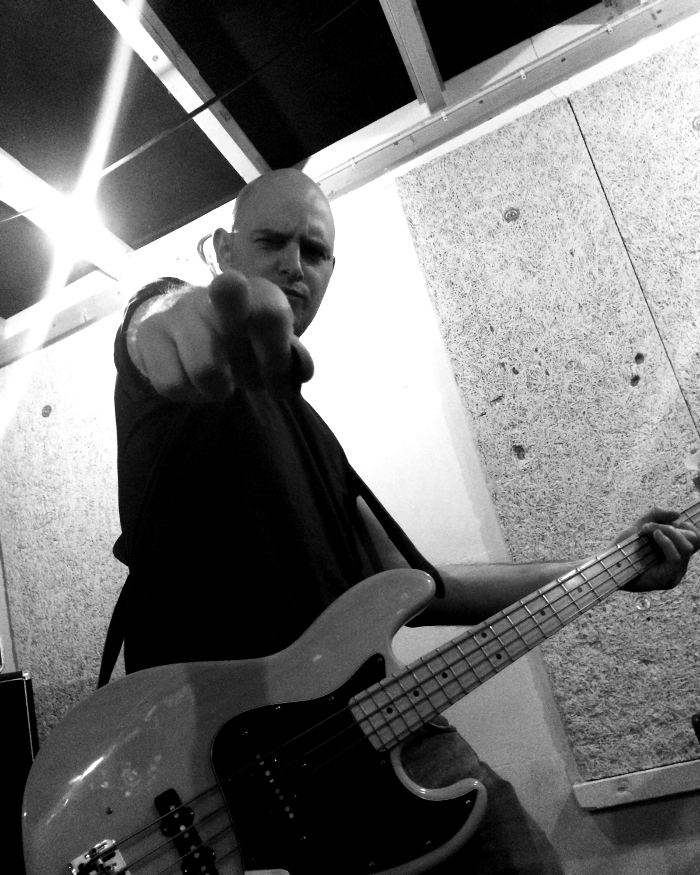 BG: Well, we did play for about ten years with Beans and we have some good memories about that period. We did some really fun tours en recorded four albums', but that band had its time and place.
The main reason we didn't want to continue as Beans is the fact we didn't want to do this lame reunion thing. And let's face it, probably very few people are holding their breath for Beans to start playing again anyway. Besides, we really didn't want to play our old songs over and over again. So we decided to have a fresh start. Our tastes in music also slightly developed over the years, and the old Beans songs wouldn't reflect that. So now we do have to start from scratch again, but that's not really an issue for us.
As for playing together the answer is quite easy. We've been friends for over half our lives now and some of us have played in different bands in the meantime, but a band simply work better when everybody in it wants to play the same kind of music and has the same views of how a band should operate. For instance, we started playing a year ago and we all wanted to do a full-length album as soon as possible. Having the same mindset is pretty important. It's also about how much time everyone is willing to invest in the band, whether everyone agrees (at least to some extent) with the content of the lyrics, and all kinds of stuff like that.
AFL: You released your new EP Remans. Your first release since you're playing again together. How satisfied you are with the record, how the EP differs from your releases from the BEANS times and what can the listeners expect on it? 
BG: Well, the songs on the 'Remnants…' EP are in fact actual remnants from our later Beans period. We recorded these songs in 2006. They were included on an album called Sundown, which was never officially released, except in small numbers in Russia in support of a tour we did there. For us, that final album already contained the basic foundations of what we're aiming for with Bitter Grounds. So we just grabbed four songs from that album that we really liked and we thought would reflect the new album as much as possible. It was basically meant as a teaser for the upcoming album (hence the digital-only release), but – perhaps somewhat to our surprise – a lot of people seem to like the songs. We also shot a DIY video for one of these songs (Radio Silence).
AFL: In April you will release a full-length. Have you some more details to the album? When will you release it, how many songs are on it, what title and so on?
BG: We will record 14 songs in April, and these will be a nice mix between some uptempo punkrock, some bootstomping ska and some fast paced reggae. We're still working on things like the album title, figuring out the artwork etc. The album will probably be released at the end of sping/early summer 2016.
AFL: Which bands and music do you count to your influences and how would you describe you music? Which three words fit best to BITTER GROUNDS?
BG: There's a lot of bands that infuence(d) us. The bands that come to mind first are Operation Ivy, the Clash, Rancid and maybe Bad Religion. These bands all influenced us immensely when we first formed Beans back in 1996. The thing is we've been listening this kind of music for over 20 years now and we like a lot of different styles. And of course we don't always necessarily agree with each other. You could say everything from Motörhead, Oxymoron, and Blood for Blood to more melodic stuff like US Bombs, One Man Army, Cock Sparrer and bands like that have been influence over the years. On the other hand the bands we hate also have a big influence on us. It gives us an idea of how we don't want to sound. I guess the best way to describe Bitter Grounds is what you see is what you get.
AFL: The full-length will release on the German Label Ring of Fire Records. How came the contact between you and the label? 
BG: We sent him an e-mail and he liked the idea of working together. We didn't really want a label at first because we don't really feel that labels that necessary anymore to get your music out there.  There's this thing called the internet nowadays. But when we saw he had this DIY attitude we really like, we decided that working together could never hurt and might actually be a good idea. You know, sharing the workload and stuff.
AFL: I read that the booking agency MUTTIS TOURBOOKING will bring you back on the road. Are there already some dates confirmed? Will you go on tour?
BG: Yes, there are some confirmed dates. We will play in Hamburg and Kiel at the end of June/beginning of July. We also have some shows in The Netherlands coming up. Right now we're focusing on the album, but after it's been recorded we will be playing shows on a regular basis. Tours may be an option but for now we will probably try to do short trips (3 or 4 shows in a row). We live the middle of The Netherlands, so a lot of countries are just a few hours away.
AFL: What are your favorite bands and records at the moment? Can you give us an inside tip about your home?
BG: I can only speak for myself on that one. Right now my favorite bands are pretty old actually. I really like Cock Sparrer, Against me!, Bad Religion, but also some lesser known bands like The Filaments from the UK are pretty good… Bands like that. As for our hometown Utrecht… I guess John Coffey is pretty big right now. They play this positive hardcore kind of music. If you're more into the bearded hipsters drinking cappuccinos kind of music you should check out Coppersky. Both bands don't really do much for me personally, but to each their own. As for The Netherlands in general… Disturbance from Rotterdam are pretty good if you're into old-school brutal punk (think The Exploited and the like). Jaya the Cat have some pretty good songs. Peter Pan Speedrock should be seen live before they call it quits at the end of the year.
AFL: What are your plans for the near future and where do you see yourself in 10 years?
BG: Get our record out and play fun shows is our main focus right now. In the next 10 years we basically wanna release some more records. If we could headline smaller venues all over Europe I would of course be very, very happy. Cuz that would mean we could play basically anytime, anywhere.
AFL: Final words and greetings?
BG: First of all we would like to thank everybody out there who runs a small label or a fanzine. I've noticed since we started that there are a lot of cool people out there who do interviews, reviews, radio shows, and in that way keep the underground scene alive. Come see us when we're in the neighborhood. Thanks for the interview!