The Last Stand is a hardcore band from Brooklyn, NY which founded in the year 2010.  After their debut full-length The Time Is Now (2013, Demons Run Amok Entertainment) they release their brand new EP This Is Real via Irish Voodoo Records this year.
Three of the four band members were already active in the hardcore band SHUTDOWN in the 90's. Singer Michael Scondotto was also frontman of the band INHUMAN.
We could talk to Michael and bassist Dion in an interview, to learn more about THE LAST STAND.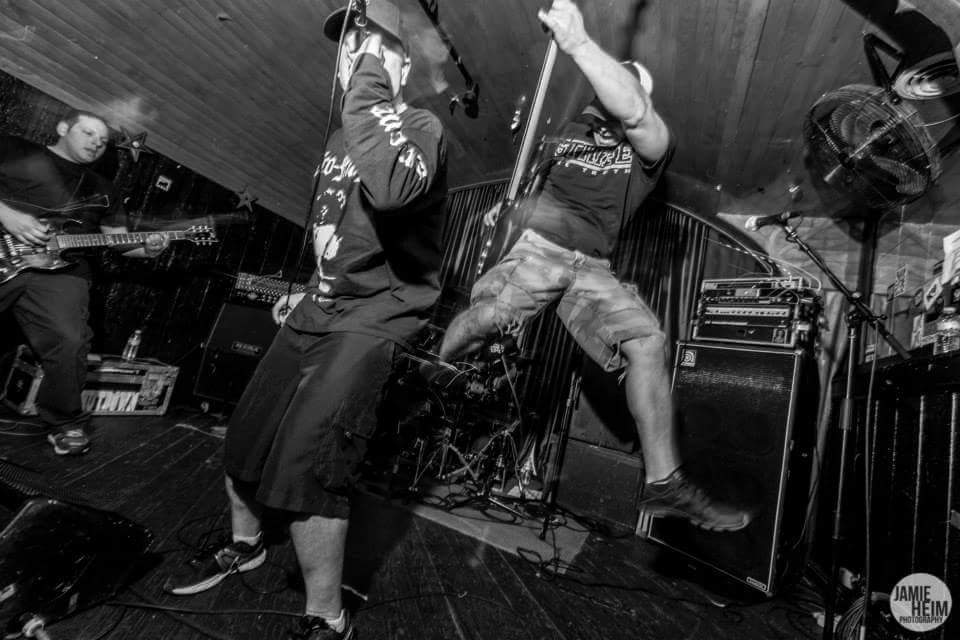 AFL: Can you briefly introduce yourself for everybody who doesn't know you so far?
Michael: The Last Stand started in the spring of 2010 as Dion (bassist) asked me to be a part of a new band he wanted to do with Steve (guitars) and Jimmy (drums). We were all friends for years before that of course since the 90's as SHUTDOWN and INHUMAN played together all of the time and even did a US tour together in 1998. In 2010 we did a 4 song demo cd, by 2011 we put that cd out as a 7" with an extra track on the label 1124 Records. Then we signed with Eulogy Records for our first full length "The Time Is Now", which came out in 2013. We then went back into the studio in 2016 and recorded what became the new EP, "This Is Real" which just came out on Irish Voodoo Records. The Last Stand exists purely for the love of Hardcore music and the desire to play New Hardcore music.
AFL: Three of four of THE LAST STAND was active in the NYHC band SHUTDOWN before. Why you have decided to start something and not doing a comeback with SHUTDOWN?
Dion: Shutdown logistically is just difficult to do full time Mark lives in Florida and the rest of us live here. I decided to move on from Shutdown and start something new so that we could be a living and breathing band that rehearses, records and plays live.
Mit dem Laden des Inhalts akzeptierest du die Datenschutzerklärung von Bandcamp.
Mehr erfahren
AFL: In my opinion you have the typical NYHC sound. If I hear your new EP THIS IS REAL you remind me a lot to SICK OF IT ALL and CRO-MAGS. Are these two band one of your main influences? What are your influences?  
Michael: We love the Cro-Mags and SOIA, but we also love Ignite, Breakdown, Killing Time, Youth of Today, Terror and countless others. Other more non-obvious influences are Carnivore, old Life Of Agony, old Biohazard, the classic Brooklyn bands.
AFL: Is the title THIS IS REAL referring to "real" NYHC? What is the meaning behind the title?
Michael: It is kind of our statement of intent, a mission statement – we take our music seriously. We are proud to be a Hardcore band. All of us have been in the scene making music for decades, I am just under 3 decades of it myself and it is a huge part of who I am. Another way to interpret the title is to not be half assed about anything, give it your all and take whatever you do in your life seriously.
AFL: The cd version of THIS IS REAL include covers of YOUTH OF TODAY's Choose to Be and GORILLA BISCUITS' Big Mouth. Why you choose specially these two songs? If you can choose three more cover songs which would you take?
Michal: "Choose To Be" was recorded during the sessions for our LP "The Time Is Now" for a split 7" that never happened, so it went unreleased. We wanted it out there so we put it on this release on the cd and digital only, not on the vinyl. We all love YOT and that song was a favorite with a great message. "Big Mouth" is so much fun to play and GB are another all time favorite. As for more covers? Maybe Breakdown, Floorpunch and Side By Side!
AFL: I'm a huge NYHC fan. Can you name me and the readers some newer hardcore bands from New York that we should check out?
Michael: From New York I like Manipulate, who are semi new like we are, not really that new. There is a cool melodic Hardcore band from the Bronx called Enziguri, they sound like the first H2O record.
I honestly have not heard a lot of new bands from NYC playing what I consider actual Hardcore. A lot of bad Metal that calls itself "Hardcore", but not much new real Hardcore as of late.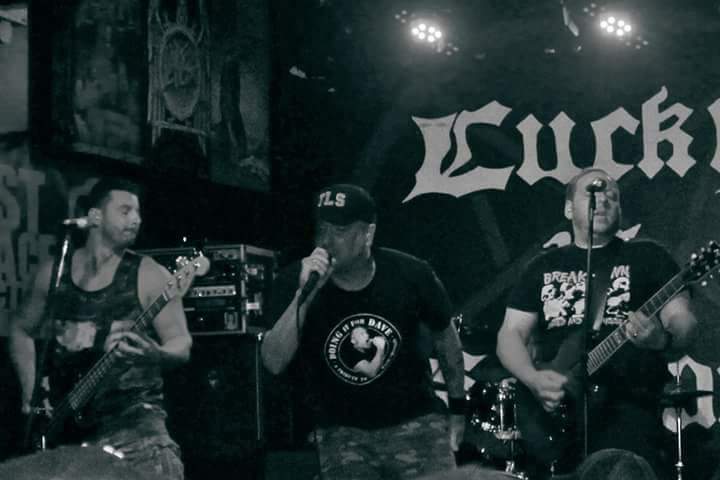 AFL: With SHUTDOWN you've released in the past some releases via Victory Records. In the last years more and more bands said that they were rip-off by label. What experiences did you make with Victory Records?
Dion: Victory was a great label to be on. I honestly have no complaints about Victory Records.
AFL: Have you plans to touring Europe one time? If yes is something in pipeline?
Michael: We would absolutely love to. Shutdown toured Europe three times, Inhuman one time, but all of this was a while ago. I am not sure just how many people know who The Last Stand is in Europe, but we appreciate all of the support we have received so far! If you like us, please spread the word!
AFL: Thank you for the interview! Have you any last words or something to add?
Michael: Thank you so much for the interview! REAL HARDCORE is alive and lives in THE LAST STAND.
The Last Stand Line-Up
Michael Scondotto – Vocals
Dion De Nardo – Bass
Stephen Della Croce – Guitar
Jimmy McCormack – Drums