We were able to conduct an interview with US film maker and director Drew Stone. Where we discuss his current project The New York Hardcore Chronicles. In this interview Drew talks about the past, present and current NYHC scene and how he got introduced to hardcore by a guy with a clean shaved head in the early 1980's. The film centers on the NYHC community and culture legendary people, places and events.
The New York Hardcore Chronicles – Interview with Drew Stone
"Get up, get out and make it happen!"
AFL: Hey Drew how are you? Can you briefly introduce and describe yourself and your works for people who are not familiar with you?
Drew: Sure. Hello everyone and thank you very much for your time and support. My name is Drew Stone and I'm an American film director, producer, editor and musician. I'm born and raised in New York City. My works include music videos, commercials, film and television. I founded the New York based film production company Stone Films NYC. As a musician, I've sang for the hardcore punk bands The Mighty C.O's. of Boston, Massachusetts and New York City's The High & the Mighty. Since 1984 I have been the singer for Antidote.
AFL: You are currently working and plan to release the documentary "The New York Hardcore Chronicles" this year. Can you tell us a little bit more about this project?
Drew: After I did "xxx ALL AGES xxx" The Boston Hardcore Film people started asking me when I was doing one about the NYHC scene. I really had no interest. I felt like it was just too massive and convoluted a story to even attempt to tell it. Soon after I started my other film "Who The Fuck Is That Guy?" The Fabulous Story Of Michael Alago and that really started rolling along.
At some point The New York Hardcore Chronicles page got launched on Facebook and just really took off. It was a bit shocking how many people joined the page and got involved. What makes the page special is that it isn't just about the music but deals with the community and the culture of NYHC. Although I created the page there are many "Content contributors" to it which really adds to the community feel of it. So to keep a short story short the film is really an extension of the The New York Hardcore Chronicles Facebook page. That page is so well loved and has a following close to 50 thousand people so it made sense to translate it into film.
AFL: Do you have you an exact date for release of the film?
Drew: I'm hoping to release it in Dec. 2016 but that could change. I'm in no real rush to release it until I am happy with it.
https://vimeo.com/152516841
AFL: Are you documenting "just" about the foundation of NYHC and the early years or about the complete history of Hardcore in New York from the early till today?
Drew: This film is NOT the history of New York Hardcore. It's a "episodic" film with the common thread of NYHC running thru everything. For instance the names of a few of the segments are; "The Return To The A7", "The Journeyman", "Spray Paint The Walls, "The Crossover" and "The Lost Archive. What all these segments have in common is they have the thread of New York Hardcore running thru them.
AFL: Which bands and persons have you interviewed for the film?
Drew: Here is the list so far in order of appearance:
Joe "Cuz" Cammarata (Black N' Blue Productions)
Laurens Kusters (Black N' Blue Productions / I Scream Records)
Roger Miret (Agnostic Front)
Vinnie Stigma (Agnostic Front)
Todd Youth (Agnostic Front / Murphy's Law / Warzone)
Jimmy Gestapo (Murphy's Law)
Dito Montiel (Major Conflict)
Gavin Van Vlack (Absolution / Burn / N.Y. Hoods)
Robb Nunzio (Antidote / M.O.I.)
Ezec (Danny Diablo / Skarhead / Crown Of Thorns)
Louie Gesparro (Murphy's Law / Blitzpeer)
Sacha Jenkins (Journalist / Musician)
Chaka Malik (Burn / Orange 9mm)
Hoya (Madball / Dmize / Hazen St.)
MQ (Graffiti Legend)
Freddy Cricen (Madball / Hazen St.)
Skam Dust (Son Of Skam)
Drew Stone (Director)
Randall Underwood (Photographer)
Keith Burkhardt (Cause For Alarm)
Rob Kabula (Cause For Alarm / Agnostic Front)
Marc MAD (European Booking Agent)
Bobby Hambil (Biohazard)
Gary Meskil (Crumbsuckers / Pro-Pain)
Howie Abrams (Author / Record Exec. / D.J.)
Harley Flanagan (Cro-mags / M.O.I. / Harleys War
Danny Lilker (Anthrax / S.O.D. / Nuclear Assault / Brutal Truth)
Billy Milano (The Psychos / S.O.D. / M.O.D.)
Billy Graziadei (Biohazard)
Kirk Hammett (Metallica)
Alex Kinon (Cause For Alarm / Agnostic Front)
Louie Beato (Carnivore / Agnostic Front)
Craig Setari (Sick Of It All / Cro-mags / Agnostic Front / Rest In Pieces / Straight Ahead)
Danny Schuler (Biohazard)
Armand Majidi (Rest In Pieces / Straight Ahead / Sick Of It All)
Lou Koller (Sick Of It All)
Mike Judge (Youth Of Today / Judge)
Walter Schreifels (Youth Of Today / Gorilla Biscuits / Quicksand)
John Porcelly (Youth Of Today / Judge / Shelter / Project X)
Photos from The New York Hardcore Chronicles facebook page
"I live, breathe and eat New York fucking City!"
AFL: Wow great! For the documentary you've created a Facebook page and post daily. Lots of cool photos of bands, people and places out of New York hardcore history. I love this page! Where do you get all those great pictures?
Drew: The page was set up to create a platform for people to reconnect with the community and the culture of New York Hardcore past, present and future. It's a place to post their photos, flyers and other material as well as engage in dialogue with others from the clan. Although I had the vision and created the page it's a total group effort that involves many "Content Contributors". It's not "My" page, It's "Everyone's" page. In a way it's like a High School Reunion. It's a chance for old friends to reconnect and catch up with each other as well as get back in touch with a time in their lives that was very vibrant and important to them. The page has an amazing amount of never before seen flyers, photos and footage. It also has a little bit of a sense of humor which people appreciate in these trying times as well as zero tolerance for hateful banter. Also for people that don't live in New York or even have never been here and yet are fans of "New York Hardcore" per se it's a chance to have a conduit to some great material.
AFL: When did you decide to become a documentary film maker?
Drew: It's just something that I naturally evolved into after having a career making music videos then a career doing extreme sports films. In a way they both are short versions of "documentary" films.
AFL: Which New York hardcore band impressed you at most?
Drew: As far as the early New York hardcore bands I'd say I liked Cause For Alarm, Agnostic Front & Reagan Youth. Those bands were O.K. but really not great. I was really impressed with Antidote the first time I saw them so of course I was very excited when I ended up singing for them. Of course the Cro-Mags were really something special to behold once John Joseph started singing for them. I'm not sure if you would consider The Misfits a NYHC band but I really liked them when I first saw them in 1982 and loved playing shows with them back in the day. Later on I really liked Madball (I did 2 music videos for them), Biohazard (I did 5 music videos for them) and Sick Of It All. I also managed Merauder, Fury Of Five & Subzero for a while.
AFL: You are also the singer of the legendary Antidote. From time to you play shows again. Do you have plans to release some new music?
Drew: Antidote put a new record out on Bridge Nine records a few years ago called "No Peace In Our Time". Most of the songs go all the way back to the early 80's and weren't recorded for "Thou Shalt Not Kill". It's a great hardcore record and we are very proud of it. That said I don't think we will be recording again any time soon. Every now and then Antidote will get back together and play a few shows. It's usually about 2/3 times a year so it's always something special and a lot of fun.
AFL: Do you remember your first contact with hardcore?
Drew: I grew up in New York City in the 1970's as part of the "Blank Generation". To late for the '60's thing, to early to be a part of the MTV generation (Thank god) and I fucking hated disco. In August of 1981 I went up to Emerson Collage in Boston Mass. to study acting. Soon after my arrival I was introduced to a guy in the Emerson cafeteria who had his head shaved. At the time the only people that had their heads shaved were marines and psychopaths. He told me that his name was "Choke" (later to be the singer of Negative FX then Slapshot) and he was into this "Hardcore" thing. "Hardcore"? I replied "What do you mean Hardcore? Like The B52's, Joan Jett or Blonde"? I didn't have a fucking clue what he was getting at so after trying to explain it to me for a while we decided the best way for me to understand the whole thing was to just go and experience it for myself.
So a few days later we trooped to downtown Boston and into an old factory building to a place called the Media Workshop for a Sunday matinee show. As fate would have out it was one of SS Decontrol's first shows and it turned out to be a pivot point in my life. There were about 30 people there and everyone in attendance was my age or younger. There were no drugs or alcohol around which was very strange to me coming from a very different environment back in New York City. I felt very connected to what was going on in the room and jumped right into the melee. After the band finished playing the guitar player Al "Lethal" Barile came up and introduced himself to me and in turn the introduced the other guys in the band. He was very interested in knowing who I was and where I came from. It was a VERY small scene back then so when someone new showed up they were met with much enthusiasm. Regardless to say after that I was swept up in the burging early Boston Hardcore scene which to say the least was an extremely exciting time.
AFL: What is the difference between New York hardcore today and the early years?
Drew: In the early 80's hardcore scene there was a very song sense of community. There was a feeling that things were very new and fresh. There was no roadmap which led to a lot of chances being taken. The biggest message that I got from the whole thing was "Get up, get out and make it happen" and "You can do it". I've carried that attitude with me into adulthood in all my endeavors including the career I had in Music Videos and Extreme sports films. Now like then playing hardcore music is a great release. All the pent up emotions come spilling out when we play but most of all it's a lot of fun. There are moments when we are onstage playing hard fast music very loud where everything in the world seems perfect. It's one of the greatest feelings that I've had in my life and I wouldn't trade it for the world. In many ways nothing has changed but in other ways sometimes it feels that everything has changed.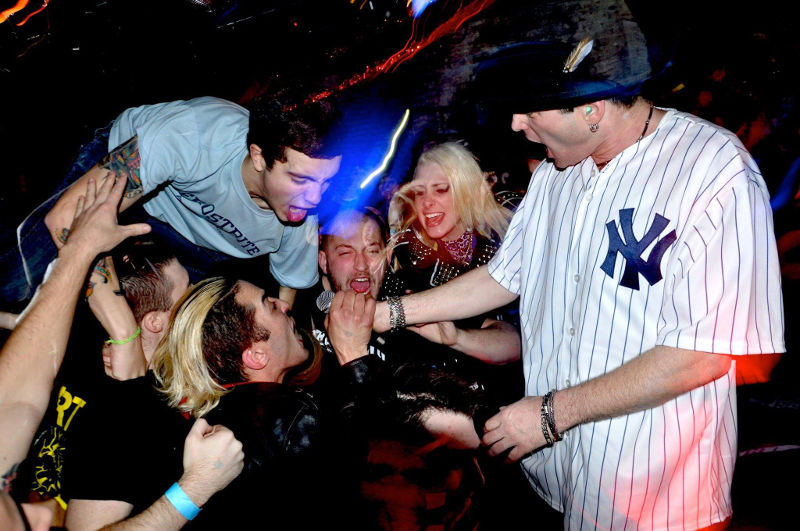 AFL: Will you continue the NYHC Chronicles after the upcoming release and further document the future of hardcore and punk in NYC?
Drew: Yes I think in some way I will continue to document things after this film comes out and of course the Facebook page will continue.
AFL: Do you follow hardcore outside of NYC?
Drew: It's hard for me to pay attention to what's going on outside New York since I'm so wrapped up in what's going on here. I live, breathe and eat New York fucking City!
AFL: What are your favorite new NYHC bands at the moment?
Drew: Regulate, NYC Headhunters, Manipulate & Point Blank. All great new bands that play hardcore the way that I love it.
AFL: Have you already plans after "The New York Hardcore Chronicles"?
Drew: I've got a few things up my sleeve. My other film "Who The Fuck Is That Guy?" The Fabulous Journey Of Michael Alago should be out soon. I'm working on a book with the title "The Road To Ruin" which is about growing up in NYC as part of the "Blank Generation" in the 1970's and '80's. I've always want to do a documentary about The Misfits so hopefully some day that will happen as well.
AFL: Thanks for the interview Drew. Have you any last words?
Drew: It took me a long time to figure out how to do a New York Hardcore Film that is viable and interesting and now that I have that vision I will do my best to make it great and not let you down. I have to thank old school NYHC gal Alexa Poli who has gotten behind this project and been supportive of me as a artist. I also want to thank Cuz Joe, Buske, Freddy Madball and all at Black N Blue Productions who have been extremely supportive. If you see me out there on the ball field please come up and say hi I want to know who you are. Thanx for the support and please visit The New York Hardcore Chronicles Page on Facebook as well as www.stonefilmsnyc.com. Thank you for supporting REAL independent filmmaking!